Sadly, swordfish have been found to contain the highest levels of mercury found in any of the larger edible fish. The Food and Drug Administration (FDA) recommends that pregnant women, women of childbearing age, and young children avoid eating swordfish, shark, mackerel, and tilefish. These fish often harbor high levels of methyl mercury, a potent human neurotoxin. Methyl mercury readily crosses the placenta and has the potential to significantly damage the fetal nervous system. For other individuals in good health, swordfish is best consumed no more than once each month.

Several recent studies have confirmed a direct co-relation between frequent consumption of swordfish and excessively elevated blood levels of mercury. In a study conducted in San Francisco and published in Environmental Health Perspectives in April 2003, involving 123 subjects who consumed 30 different types of fish, frequent consumption of swordfish had the highest co-relation with blood mercury levels exceeding the maximum recommended by the U.S. Environmental Protection Agency (EPA) and the National Academy of Sciences.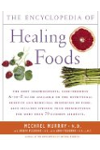 More About this Book
Encyclopedia of Healing Foods
From the bestselling authors of The Encyclopedia of Natural Medicine, the most comprehensive and practical guide available to the nutritional benefits and medicinal properties of virtually everything...
Continue Learning about Healthy Eating Guidelines