Children should eat a healthy, balanced diet to get the nutrition they need to be healthy and happy. Research continues to support the importance of a healthy diet for small children and adolescents, even when it comes to mental health and cognitive abilities. The need for more effort for family nutrition is clear. Obesity rates have nearly tripled among youth over the past three decades. Today, about one in three children and teens in the United States is considered overweight or obese.
Good nutrition as a youth generally will lead to good nutrition as an adult. Many times adults are overweight and out of shape and then they try and figure out how to regain their youth and get in better shape. Their habits are shaped and it can take a tremendous amount of work to turn around an unhealthy body as an adult.

However as a child if you eat a balanced and healthy diet you probably are going to stay healthy, fit and you will not have to figure things out when you are in an adult.
A balanced diet can make a big difference in the overall health and well-being of your child. Good nutrition fuels kids for school, family time and play. And when they consume the right balance of calories and nutrients for their growing bodies, they'll feel better and have more energy. A balanced diet also ensures that a child is receiving the nutrients needed for appropriate growth and development, and it encourages the child to have positive and healthy eating behaviors and relationship with food.
If we can teach our children (by example) the importance of eating a balanced diet, we decrease their chances of having to deal with poor health (including obesity) when they reach adulthood.

Many adults today (in their 30's, 40's and beyond) are just learning the basics of balanced nutrition. Why not help our children learn healthful habits from a young age so they can avoid being in that position?

A balanced diet is important for adequate growth and development, learning, behaving well and a healthy weight to prevent chronic disease. A child should be offered 3 meals per day and frequent snacks of whole grains, fruits, vegetables, healthy fats such as olive oil, proteins including lean meat, nuts, legumes, beans, soy or dairy and reduced saturated fat, sodium and sugar.
With the rates of obesity and Type 2 diabetes continuing to rise in children, there is no better time to educate your child about the importance of a well-balanced diet than when they are very young. The point is not to tell the child he/she can never have a cookie or a piece of candy, but focus on the positive. Let the child know how important it is for them to eat healthy on a daily basis and make foods such as fruits, vegetables, whole grains, healthy fats and lean proteins "everyday" foods while things like cookies, chips, etc. only "sometimes" foods. If the child eats well most of the time, then those "sometimes" foods are less likely to have a negative impact on their health. Now, if the "sometimes" foods become part of the child's daily intake, then this becomes problematic. The goal is not to make the foods they like "forbidden", but, rather, you want to encourage, buy and prepare foods and meals that are healthy and still taste good.

The most important aspect of encouraging and helping a child consume a healthy, well-balanced diet is to lead by example. A child will typically eat the foods that are available in the house and the foods that they see their parents eating. So you as the parent or guardian have more power than you think you have when it comes to your child's eating habits. You can also try bringing the child along when going to the market. Purchase healthy items and even ask if they would like to help prepare the meal. Exploring different foods at a young age is essential to helping the child to acquire a taste for a wide variety of healthy nutritious foods.
You probably have heard of the expression "You are what you eat." There certainly is some truth to this so it is never too early to teach good eating habits. This means including all food groups in meals and snacks. For example, a lunch should include a little protein, whole grains, fruits, vegetables, and dairy. One of the benefits of school lunch is that all of these foods are included every day.
Children require very high nutrient needs to support ongoing growth but due to their smaller stomach size, the volume of food they can eat is typically limited. It is important to provide them with nutrient-dense foods and prevent them filling up on empty calories. A diet comprised of fresh fruits, vegetables, whole grains, lean proteins and dairy/dairy alternative has been shown to have an impact on children's health in everything from stomach/GI comfort to energy levels to how well they focus in school. Check out www.KidsEatRight.org for additional information, wellness tips and healthy kid-friendly recipes.
If your child isn't getting the right foods in the right balance, he may not have enough energy to get the most out of his day. Without enough "fuel" he may start to lose interest in activities he used to enjoy and lack the concentration he needs to give his all in school or elsewhere.

Don't worry about the balance of your child's diet in a single meal. Or even in a single day. Instead, think about your child's diet in terms of balance over a longer span of time, like an entire week. Focusing on broader patterns is a much more constructive approach.

Children go through stages. At times, they will honestly not be hungry. And it's OK for them to not eat much. Usually, this happens in a dormant phase of their growth cycle. Other times, kids will be ravenous and you can't keep enough food in the house.

At all ages, I also find that kids tend to hate at least one thing, let's say green beans, and devour tons of another, like grapes or sliced oranges in season. That's just fine; if your child's intake over the course of a week, on most weeks, is cumulatively balanced, you're A-OK.

From Good Kids, Bad Habits: The RealAge Guide to Raising Healthy Children by Jennifer Trachtenberg.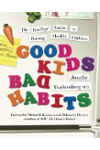 Good nutrition in the early years can have a significant impact on your child's entire life in later years. Good nutrition, such as 100% whole grains, lean protein, healthy fats, such as nuts, (if no allergies are present) and low fat dairy can have a positive impact on learning at school, as well as helping to promote a healthy weight for years to come.
Nutritional deficiencies of either macronutrients or micronutrients can cause your child to be labeled as hyperactive, depressed, or even unlikable. For example, being deficient in iron (children require 7-10 mg a day) causes a child to have both behavioral and learning difficulties. It is imperative that children eat nutrient dense foods like whole grains, fruit, and vegetables with good quality protein sources in order to meet all their requirements.
For a lot of people, eating habits are established early in life. If children do not eat many fruits or vegetables, they may lack nutrients important for growth and development. If girls do not drink milk in their bone growing years, by the time they reach menopause, they may be prone to osteoporosis. Parents are the best role models. Serve your children balanced meals, so that they grow up healthy and strong.
A well-balanced meal for children will help them grow as needed. We can consume different nutrients from each food group. That is why it is important to balance. If only a grilled cheese sandwich was eaten each day, a child would miss out on a lot of nutrients they cannot get from bread and cheese. A child needs carbohydrates, protein, fat, vitamins and minerals to grow.
Brain development is the answer. A healthy, balanced diet leads to optimal growth and development. A balanced diet will provide all the necessary nutrients a child needs to be their best at home, in school, on the athletic field and in all other extra curricular activities.
First focus on breakfast. Children who eat a healthy breakfast do better in school, on tests, and eat less junk food for the rest of the day. Make sure to enclude a good protein source at breakfast. Foods high in protein includes eggs, smoked salmon, meats and nuts and nut butters. Make sure you wake up your child early enough to eat the healthy breakfast. If needed, plan out the breakfast or prepare parts of it the night before.

The second thing to focus on is vegetables. This will help your child get all of the necessary vitamins, minerals and phytonutrients for optimal health. For most school age children, you want to work on getting 2-3 cups (5-7, 1/2 cup servings) of vegetables into their daily diet. Chop up some peppers into their eggs in the morning, add some carrots to their lunch and give them a salad and cooked vegetables at dinner.

The third thing to focus on is limiting sugar. Children are getting too many of their calories from sugar and these are alll empty calories. This means they are not providing the nutrients that the child needs to grow properly and prevent disease. Instead, all of this sugar is causing our children to gain too much fat. This is increasing their risk of obesity, fatigue, depression, infertility, cardiovascular disease and diabetes. Avoid all drinks with added sugars. This includes soda, juice drinks and sports drinks. Focusing on these three things will help your child grow and be healthy.
Continue Learning about Healthy Eating For Children & Teens