Fruit is primarily carbohydrate, and eating carbs alone won't satisfy your hunger; you digest carbs the quickest, protein and fat slower. To give fruit that stick-to-your-ribs quality, pair it with a small amount of protein, which digests slower than carbs and has a high satiety factor -- in other words, it satisfies hunger. Good protein options: an ounce of cheese, ½ cup of cottage cheese, or an ounce of nuts.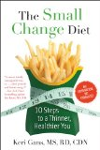 Continue Learning about Health Value Of Foods

A healthy diet is rich in foods with high nutritional value, providing your body with the vitamins, minerals and other food nutrients it needs to protect against disease and maintain a healthy weight. To identify healthy foods, it...
's important to read nutrition labels and know the source of your food. Products advertised as whole-grain, organic or fortified may not necessarily be healthy for you. Find out how to get the most health value from various fruits, nuts, spices, oils and vegetables -- and learn which types of red meat and processed foods to avoid -- with expert advice from Sharecare.
More