Salmon is an excellent source of protein, potassium, selenium, and vitamin B12. In addition, it is a very good source of niacin and phosphorous. A 31/2-oz (100 g) serving contains approximately 231 calories, 25 g of protein, and 85 mg of cholesterol. Wild salmon has more calories than leaner fish, such as mahi-mahi, because of its fatty acid content. A 31/2-oz (100 g) serving contains 13 g of fat, with 1,000 mg of EPA and 725 mg of DHA. Farmed Atlantic salmon has 690 mg of EPA and 1,490 mg of DHA per serving.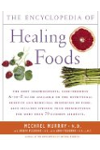 More About this Book
Encyclopedia of Healing Foods
From the bestselling authors of The Encyclopedia of Natural Medicine, the most comprehensive and practical guide available to the nutritional benefits and medicinal properties of virtually everything...
Continue Learning about Health Value Of Foods