Nuts are a far better snack than, say, fat-free pretzels. You're getting antioxidants, which are better for you than a mouthful of starch. For instance, pecans and other nuts rich in monounsaturated fat lower bad cholesterol, while peanuts reduce gallstone disease risk in women. Be sure to buy unsalted nuts, or you may have trouble controlling your snacking.
Nuts and nut butters provide a healthy protein source that is naturally rich in healthy unsaturated fats. Eating foods high in unsaturated fats reduces your risk for high cholesterol, heart disease, and diabetes. Your risk of heart disease decreases by almost 40 percent when you eat nuts four times weekly compared with seldom or never eating nuts. This means that you can reduce your heart disease risk by about 8 percent for every serving of nuts you have each week. In addition, the Journal of the American Medical Association reported that women who regularly ate nuts and peanut butter had a lower risk for developing adult-onset diabetes. Eating peanut butter or one ounce of nuts five or more days per week reduced the likelihood that these women would develop diabetes by 25 percent.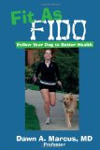 More About this Book
Fit As Fido: Follow Your Dog to Better Health
Let your dog teach you to live a happier, healthier, and more fulfilling life! Companionship with your pet can be used as a means and a motivator to increase your own physical and mental fitness....
Nuts are a powerhouse source of good nutrition. Not only are nuts great tasting they provide essential nutrients in the diet including:
Healthy fats and naturally cholesterol free. For example, just one ounce of almonds contains 13 grams of unsaturated fat (healthier fat) and only 1 gram of saturated fat (unhealthy fat).
Dietary fiber -- A healthy diet should contain 25-35 grams/day of fiber. One once of nuts can provide up to 3.5 grams of fiber.
Antioxidants -- Not only is vitamin E present but other antioxidants called polyphenols are delivered in this small but mighty food.
Protein -- Nuts provide a great source of protein. In fact, just one ounce of nuts provides up to 6.0 grams of protein.
As far as calories, nuts can provide up to 200 calorie per ounce so just a small handful will do, which is equivalent to approximately an ounce. However you can rest assure that for the amount of calories provided you are receiving numerous essential nutrients. Good things do come in small packages!
Nuts are a good source of unsaturated fats, omega 3 fats, fiber, Vitamin E, plant sterols, L Arginine all of which provide heart healthy benefits. According to the FDA eating 1.5 oz or 42.5g of nuts/day as part of a heart healthy diet may reduce your risk for heart disease.
Nuts are generally rich in unsaturated fats, including monounsaturated fatty acids, which studies show can reduce the risk of heart disease by lowering total cholesterol and LDL cholesterol. They may also decrease inflammation, which is thought to promote disease. Due to their fiber content, nuts make you stay fuller, longer. Thus, you tend to eat less and as a result, lose weight. In addition, nuts also have other beneficial nutrients such as Vitamin E, Omega 3 fatty acids, copper, niacin, magnesium and manganese. So add some nuts to your salad or as a snack. One portion is about the size of your "cupped" palm.
Here is why nuts are good for you:
The omega-3 fats in nuts, especially walnuts, which have six times as much as the next nearest nut, protect against heart disease.
The fiber richness of nuts helps you lose weight. A small handful about 30 minutes before a mealtime fills you up enough to keep you from overeating.
These crunchy treats help tame type 2 diabetes.
If you've got diabetes, trading some of your usual carbs for a couple of ounces of raw or dry-roasted mixed nuts can steady your blood sugar levels and lower your lousy LDL cholesterol. The nut mix that produces these benefits -- 2 ounces of pretty much anything -- pistachios, almonds, walnuts, pecans, hazelnuts, peanuts, cashews and macadamias.
Eating nuts has surprising benefits. Getting as much as 20% of daily calories from pistachios may improve lipid levels without causing weight gain or increasing body fat. And chomping walnuts reduces damage caused by low-density lipoprotein, or LDL (bad), cholesterol.
Continue Learning about Health Value Of Foods