Does everything taste better to you with a little butter on top -- or a lot of it? To learn about a healthy spread that substitutes good-for-you fats for the unhealthy ones found in butter, watch this video featuring Dr. Oz.
A better option than butter are the newer vegetable spreads made with plant stanols. They taste delicious, come in a light version, and can help promote healthy cholesterol levels. Avoid any spread that contains hydrogenated oil. That's code for artery-clogging trans fats.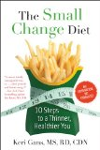 My new favorite.... putting mashed avocado on my toast in the morning. It is so creamy and rich! Avocados, olive oil, canola oil and sunflower oils provide monounsaturated fat. Remember that fat contains 9 calories/ gram... so be moderate in your amounts! Keep your fat intake to less than 25-35% of your total daily calories.
You don't have to use butter to add flavor to your food. The joy of butter is the creaminess it imparts, and luckily, there are plenty of healthy alternatives that can give you that creamy taste. Here are a few options:
Instead of buttering your toast, mash up 1/4 of an avocado. Avocados are rich in monounsaturated fat (a heart-healthy fat), and you'll be adding fiber and vitamin C.
Use hummus in place of butter. Different hummus varieties can be found in most supermarkets and specialty grocers. You'll love the change of pace and your body will appreciate the extra fiber.
If you want something for your bread at dinner, ask the waiter for olive oil. It provides a lightly fruity and spicy alternative that adds vitamin E and healthy monounsaturated fats.
With so many tasty alternatives, skipping the butter will become a habit in no time.
Continue Learning about Health Value Of Foods