Venison is an excellent source of both protein and vitamin B12. It is also a very good source of riboflavin, vitamin B6, niacin, iron, and phosphorous. In addition, venison is a good source of the minerals selenium, zinc, and copper.

Venison is a nutrient-dense meat that is an excellent source of protein and very low in fat, especially saturated fat. A 3.5 oz. (100 g) serving of venison loin, lean only, supplies 150 calories, 30.2 g of protein, 79 mg of cholesterol, and 2.4 g of fat (0.9 g saturated). Wild venison has a high omega-3 fatty acid level similar to that of range-fed beef.

Venison is a versatile, low-fat, high-protein meat that is flavorful in the way that other red meat, such as beef, is but is a healthier alternative.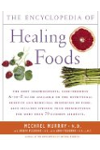 More About this Book
Encyclopedia of Healing Foods
From the bestselling authors of The Encyclopedia of Natural Medicine, the most comprehensive and practical guide available to the nutritional benefits and medicinal properties of virtually everything...
Continue Learning about Health Value Of Foods