What are the health benefits of eating watermelon?
One of the top fruits when it comes to the antioxidant lycopene, watermelon racks up even more nutrition points because it's an excellent source of vitamins A and C. Two cups of watermelon is also a good source of potassium, a key nutrient when it comes to healthy blood pressure.
As the name implies, watermelon is rich in water (about 92%), which is why they feel so heavy when you pick them up. It's this high water content that makes watermelon a fantastic summer food that nourishes, refreshes and hydrates at the same time. And one cup of diced watermelon has just 46 calories. Savor it as a refreshing snack, in a salad or for dessert.
This content orignally appeared on doctoroz.com.
Watermelon outperforms tomatoes in both content and bioavailability of lycopene -- which is associated with lower risks of various cancers, including prostate, ovarian, cervical, oral, pharyngeal, esophageal, stomach, colorectal, lung and pancreatic. Eating 2½ cups of watermelon provides a dose of lycopene sufficient to increase sun protection by 33%. Studies also indicate that lycopene may enhance male fertility, while another watermelon compound -- the amino acid citrulline, found mostly in the rind -- may function as a natural alternative to Viagra. The combination of vitamins A and C and lycopene also make watermelon heart healthy.
In addition to being a tasty treat, watermelon is a good source of vitamins A and C and contains lycopene, fiber and potassium. It's also more than 90 percent water, so it can help you stay hydrated on hot days.
Try a new twist on an old favorite with these ideas:
Caramelize watermelon slices on the grill, then drizzle with honey, lime and a pinch of salt.
Pair with shrimp on a kabob.
Carve out a watermelon to use as a bowl. Fill with fruit salad.
Use watermelon in place of tomatoes in a citrus salsa.
Use its juice as a glaze on shrimp or pork.
Of course, watermelon is also a crowd pleaser "as is." Slice it up and you have an instant appetizer, side dish or dessert.
Watermelon's red pulpy flesh contains the "mother of all antioxidants," glutathione, which is known to help strengthen the immune system. It's also high in vitamins C and A. As if that weren't enough to convince you to eat more of this superfruit, among fruits and vegetables, watermelon has the highest concentration of lycopene, the powerful antioxidant that helps fight heart disease and cancer.
In addition to the healthy rush of sweetness, you get fiber, a hit of vitamins A and C, lycopene, plus all that fresh, juicy flavor for almost no calories (fewer than fifty per cup). To make your new zip last longer, eat it with some protein and a little fat, as in a fistful of almonds or sunflower seeds, or some low-fat cottage cheese.

From The Mind-Beauty Connection: 9 Days to Less Stress, Gorgeous Skin, and a Whole New You by Amy Wechsler.

Watermelon, as its name implies, is a good source of pure water and an excellent diuretic. Because it has such high water content and lower calorie content than many other fruits, it delivers more nutrients per calorie, which is an outstanding health benefit. It is packed with some of the most important antioxidants in nature, including lycopene -- the red carotenoid pigment that also gives tomatoes their red color.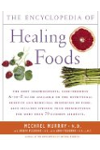 More About this Book
Encyclopedia of Healing Foods
From the bestselling authors of The Encyclopedia of Natural Medicine, the most comprehensive and practical guide available to the nutritional benefits and medicinal properties of virtually everything...
Watermelon's racking up health points. Here's the latest:
Watermelon degunks arteries. Swapping water for watermelon juice reduces body fat, lowers LDL cholesterol, and -- the biggest effect -- cleans heart-threatening plaque from arteries. Early days on this research, but it fits.
It drops your blood pressure and boosts circulation. Watermelon is one of the few food sources of citrulline, a protein that's a real powerhouse. Got borderline hypertension? Other studies have found that citrulline lowers systolic blood pressure by as much as 9 points, enough to prevent full-blown hypertension. That's because it helps produce nitric oxide, powerful stuff that opens and relaxes your arteries. Citrulline also helps with wound healing and cell division, and turbocharges blood flow, enhancing circulation to all your vital parts (much the way Viagra does).
It's loaded with lycopene. This potent plant polyphenol is thought to fend off heart disease and some cancers. Tomatoes are considered lycopene all-stars, but cup for cup, watermelon has 40% more. Watermelon may help you think faster, too.
It's naturally low-cal. There are only 96 calories in 2 fill-you-full cups of sweet watermelon.
Continue Learning about Health Value Of Foods
A healthy diet is rich in foods with high nutritional value, providing your body with the vitamins, minerals and other food nutrients it needs to protect against disease and maintain a healthy weight. To identify healthy foods, it...
's important to read nutrition labels and know the source of your food. Products advertised as whole-grain, organic or fortified may not necessarily be healthy for you. Find out how to get the most health value from various fruits, nuts, spices, oils and vegetables -- and learn which types of red meat and processed foods to avoid -- with expert advice from Sharecare.
More