Turkey is high in zinc, B vitamins, phosphorus, tryptophan, selenium and protein. It is low in saturated fat, cholesterol, provided that you do not eat the skin. It can be a part of a healthy eating plan, especially since it is a good source of protein. Turkey is said to play a role in cancer prevention and mood enhancement because of the amount of tryptophan that it contains. Since it is lower in fat and cholesterol than beef, chicken and pork, eating it also helps to lower LDL or "bad Cholesterol".
Turkey is particularly high in the amino acid tryptophan, a building block of the brain compound serotonin. Since serotonin is an inducer of sleep, consumption of turkey may help improve sleep quality. The meat's high level of tryptophan may also explain why some people want to take a nap after eating turkey.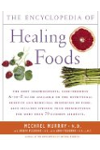 More About this Book
Encyclopedia of Healing Foods
From the bestselling authors of The Encyclopedia of Natural Medicine, the most comprehensive and practical guide available to the nutritional benefits and medicinal properties of virtually everything...
Turkey is the centerpiece of your Thanksgiving dinner -- and with leftovers, the days that follow. Cook it, carve it, and reap its many nutritional benefits.
Turkey is loaded with trytophan, a sleep-inducing amino acid. Trytophan affects melatonin, the sleep hormone that regulates and resets your internal clock.
Turkey is rich in potassium and loaded with zinc.
Lean turkey breasts fulfill more than half of most people's daily protein needs.
Niacin may help increase your HDL cholesterol, the good kind, while also helping to reduce your LDL cholesterol, the bad kind.
Turkey is an excellent source of B12, which helps prevent the buildup of homocysteine, an amino acid that may decrease cognitive function.
This content originally appeared on
doctoroz.com
Continue Learning about Health Value Of Foods