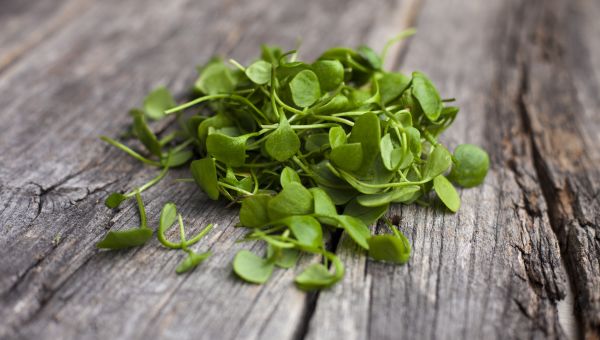 Watercress has a long history throughout the world: Hippocrates (the Greek father of medicine) opened his first hospital in 400BC on the isle of Kos where watercress was grown in adjacent springs and used to treat "blood disorders." Ancient Persians made sure their armies had a daily serving, and in England the crust-less watercress sandwich has been a hallmark of High Tea since cress was first cultivated in the 1600s. But watercress has been somewhat neglected in North America until news hit that it is packed -- and we mean packed -- with nutrients that fight disease, such as cancer, and are essential for a younger RealAge and loads of energy.
Turns out that per calorie watercress delivers the maximum amount of nutrients, earning what the Aggregate Nutrient Density Index (ANDI) considers a perfect 1000. One cup of watercress contains 4 calories, but delivers 106% of your daily value for vitamin K, 21% of vitamin A; 24% of vitamin C; 4% of calcium; 3% of potassium and a touch of several B vitamins, as well as manganese, copper, phosphorus and magnesium.
Although watercress grows wild in streams, it's better to skip that potentially chemically polluted or parasite- and bacteria-bearing source. Stick with cultivated watercress grown in pure water. It can be enjoyed raw or cooked. So toss it in a salad, steam it in a stir-fry or add it to soups and casseroles -- or try this zesty lemon and watercress pasta salad. And serve it with tea on 100% whole grain bread (trim the crust!) with a sprinkle of olive oil and thinly sliced cucumber.
Medically reviewed in October 2019.