Soy beans are a rich source of plant protein. It is a complete protein and especially useful for vegetarians. They also provide vitamins and minerals such as folate, potassium, high levels of polyunsaturated fats, and low levels of saturated fat. According to the AHA, soy is thought to be a healthy alternative to meats and other high saturated fatty foods. Also, recent research suggests that soy might help lower the risk of developing some types of cancer, osteoporosis, bone health problems, and with relieving symptoms of hot flashes connected with menopause.
Soybeans are a top source of alpha-linolenic acid, an omega-3 fat that has to come from our diets because our bodies can't produce it. Protein, soluble fiber, magnesium, iron, and folate also make these beans a quick picker-upper.

From The Mind-Beauty Connection: 9 Days to Less Stress, Gorgeous Skin, and a Whole New You by Amy Wechsler.

Soybeans are one of the world's most important foods. The key benefits of soy are its high protein content; essential fatty acids, phytosterols, and lecithin; fiber components; isoflavones; and protease inhibitors.

Protein Content: Although the amino acid profile of soy is not perfect as it is a little low in methionine and tryptophan, soy is regarded equal to animal foods in protein quality. In addition, when soy is combined with grains high in methionine, such as corn, an extremely high quality protein is made.

The essential fatty acid content of soybeans further supports its cholesterol-lowering and anti-cancer effects. Soybeans have a total fat content of approximately 18 percent, of which 85 percent is unsaturated and 15 percent is saturated. The unsaturated portion is composed of linolenic (9 percent of total oil content), linoleic (50 percent), and oleic (26 percent) acids.

Fiber: Soybeans contain a mixture of fiber. Approximately 94 percent of the total fiber content is composed of insoluble fiber, and 6 percent is soluble. Of the insoluble fibers, approximately 90 percent are hemicelluloses.

Isoflavones: Soybean consumption is believed to be one of the major reasons for the relatively low rates of breast and colon cancers in Japan and China. Studies in animals have demonstrated that diets composed of as little as 5 percent soybeans can significantly inhibit chemically induced cancers.

Protease Inhibitors: Soybeans, as well as other legumes, nuts, and seeds, contain compounds that inhibit the action of the protein-digesting enzymes (proteases). These compounds are referred to as protease inhibitors, and they are part of the seed's defense against destruction. For example, because of protease inhibitors many seeds, if eaten by birds, are indigestible and are excreted intact so they can still sprout new plants.

Phytoestrogens: Isoflavones are also known as phytoestrogens, signifying their mild estrogenic activity. Their weak estrogenic action is in actuality an anti-estrogenic effect, as it prevents the binding of the body's own estrogen to receptors. This does not disrupt the normal reproductive and fertility functions of estrogen, but may counteract some of its cancer-causing potential.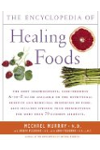 More About this Book
Encyclopedia of Healing Foods
From the bestselling authors of The Encyclopedia of Natural Medicine, the most comprehensive and practical guide available to the nutritional benefits and medicinal properties of virtually everything...
Continue Learning about Health Value Of Foods