As a member of the cruciferous vegetable family, the radish shares the cancer-protective actions of its cousins broccoli, cabbage, kale, and Brussels sprouts. It has also been used as a medicinal food for liver disorders throughout history. Radishes contain a variety of sulfur-based chemicals that increase the flow of bile, thus helping to maintain a healthy gallbladder and liver and improving digestion.

In India, both radish roots and greens are used not only to prevent vitamin C deficiency, but as a diuretic, as an expectorant, to treat gastric discomfort, and as a laxative. Radish seeds are also used for cosmetic purposes. An emulsion of radish seeds, applied to the face, is said to remove blackheads and freckles. Cooking destroys the vitamin C content of the root. Radish greens, which can be added to green salads, have more vitamin C, calcium, and protein than the roots.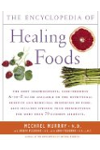 More About this Book
Encyclopedia of Healing Foods
From the bestselling authors of The Encyclopedia of Natural Medicine, the most comprehensive and practical guide available to the nutritional benefits and medicinal properties of virtually everything...
Continue Learning about Health Value Of Foods
A healthy diet is rich in foods with high nutritional value, providing your body with the vitamins, minerals and other food nutrients it needs to protect against disease and maintain a healthy weight. To identify healthy foods, it...
's important to read nutrition labels and know the source of your food. Products advertised as whole-grain, organic or fortified may not necessarily be healthy for you. Find out how to get the most health value from various fruits, nuts, spices, oils and vegetables -- and learn which types of red meat and processed foods to avoid -- with expert advice from Sharecare.
More