There are several reasons someone may waken with a headache. Migraine can certainly occur during the night. Sometimes neck problems can cause people to waken with a headache, and some find relief with special pillows. Sleep apnea is a condition where people do not breathe properly at night. People with sleep apnea may snore excessively, and a headache upon awakening is a common symptom. A variety of brain disorders may also cause headaches that are present upon arising, and this should be evaluated by your doctor. If a cause is not found, then a preventative medication taken at bedtime might be effective.
Continue Learning about Headache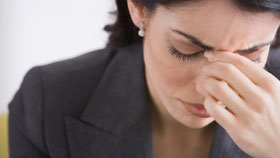 Throbbing, pulsating and pain in the head are all symptoms of a headache. Varieties of headaches such as migraines, tension headaches, sinus headaches and menstrual headaches can halt your daily activities. But, you can learn what ...
to watch for, and what to do, so you'll be ready to stop a headache before it stops you.
More