So your head is hurting. Is that any reason to load up on pharmaceuticals? Not if you know a few natural pain-relieving moves. In this video, I will discuss how you can treat and prevent headaches -- without drugs.
The following nutritional products can help headaches:
Topical peppermint oil: 10 g peppermint oil in alcohol applied to forehead and temples during a headache
For prevention treatment:
Minerals and vitamins:
Magnesium: 600 mg daily
Riboflavin: 400 mg daily
Coenzyme Q10: 150 mg daily
Herbs:
Butterbur: 50 to 100 mg twice daily
Feverfew: 100 mg of feverfew containing 0.2 percent parthenolide daily
Sleep hormone:
Melatonin 3 mg taken 30 minutes before bed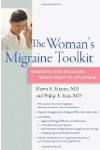 Watch as Naturopathic Doctor and Licensed Acupuncturist Dr. Peter Bongiorno suggests some natural remedies that can provide relief from headaches.
Herbal remedies such as willow bark, boswellia, and cherry can be very helpful for headaches.

Rubbed over the forehead and temples (sides of your forehead), menthol containing creams or oils help relieve headaches (keep it out of your eyes).

A physical therapy technique called "stretch and spray," which approximately 10% of physical therapists are familiar with, is also an excellent and pain free way to release your muscles and eliminate a tension headache (and help prevent future ones).

A chiropractor is much more likely to be able to help than most physicians.
If you suffer from migraine headaches, a prescription pill isn't the only solution. In this video, Dr. Oz shares an effective natural remedy that's as close as your local health food store.
The following are some of the most widely used preparations for headaches:
Butterbur: An herb derived from plants in the genus Petasites. The leaves, root, and bulb are used to make capsules and extracts. In one study, 75 mg taken twice daily for migraine prevention cut migraine occurrence by an average of 48%. Butterbur may cause mild gastrointestinal effects, especially burping. Some butterbur preparations contain chemicals called pyrrolizidine alkaloids (PAs), which can damage the liver and cause other serious harm.
Feverfew: A daisy-like flower native to Europe. The dried leaves (and sometimes flowers and stems) are used to make capsules, tablets, and extracts. Limited evidence suggests that 50 to 100 mg daily of feverfew extract can reduce the frequency of migraine headaches. Possible side effects are mouth inflammation or ulceration. Feverfew can enhance the effect of medications that cause bleeding, such as aspirin and warfarin. Do not take if you have a history of heart disease, bleeding disorders, or anxiety.
Magnesium: A mineral found in legumes, whole grains, vegetables (especially broccoli, squash, and green leafy vegetables), seeds, and nuts (especially almonds); also available as a supplement. For adults 30 and older, the Recommended Dietary Allowance (RDA) is 420 mg for men and 320 mg for women. People with cluster headache or migraine (especially menstrual migraine) tend to have low magnesium levels. One study found that a 600-mg daily supplement helped reduce migraine frequency. Possible side effects include mild gastrointestinal effects, especially diarrhea if you take magnesium citrate. Do not take if you have kidney problems.
Vitamin B2 (riboflavin): A vitamin found mainly in milk and other dairy products and whole and enriched grains and cereals; also available in supplement form. The RDA for men is 1.3 mg; for women, 1.1 mg. Very high daily doses (400 mg) of riboflavin reduced migraine frequency in one three-month study. Possible side effects include diarrhea and frequent urination.
Coenzyme Q10: A vitamin-like substance found in small amounts in all human cells, as well as in small amounts in a variety of foods. Limited evidence suggests that 150-300 mg of CoQ10 daily lessens migraine frequency. Possible side effects include nausea and lower blood pressure. Use with caution if you have diabetes or a bleeding disorder.
Continue Learning about Headache