You're more likely to keep your headache from becoming severe if you can distract your brain from focusing on pain signals. Unless your headache symptoms are severe, try to get involved in pleasant, distracting activities when your headache first begins, such as:
Go outside for a brisk walk or gentle swim.
Listen to soothing music.
Perform stretching exercises.
Use relaxation techniques.
Apply ice to your neck.
These distracting behaviors can often help keep a headache mild or help get rid of it faster than by lying in bed.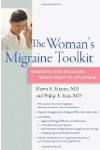 Continue Learning about Headache