Hair growth often declines as one grows older. About 50% of men and almost as many women older than 40 experience "androgenetic alopecia," or "pattern alopecia."
This is an inherited type of hair loss. It is usually more noticeable in men, where hair begins thinning around the hairline near the temples as well as on the "vertex" (posterior scalp). In women, hair loss is more diffuse, usually without areas of baldness.
There is usually hair shedding as androgenetic alopecia progresses. The condition is normal, and very common. There are two treatments approved by the Food and Drug Administration for androgenetic alopecia:
Minoxidil is thought to increase the blood supply to the follicle. This may be helpful, but its effects are lost if you stop using the drug.
Finasteride is a pill -- for men only. (This drug can harm a male fetus in a pregnant woman.) In many men, this drug has proved helpful in slowing the progression of androgenetic alopecia.
Hair loss can also occur from illness, stress, poor nutrition, and certain medications. Because there are many causes of hair loss, it is important to see your doctor to find any other underlying condition.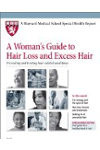 Continue Learning about Hair Loss