Stress of any kind can play a role in hair loss. Illness, including depression can take its toll on the way we look and feel.
Our hair normally goes through a "resting phase." It happens about every three years and lasts about three months before our hair starts to grow again. During this resting phase, more hairs than usual fall out, and our hair looks thinner. This process is called "telogen effluvium." It can be brought on quicker by stress, starting earlier and lasting longer in the natural cycle of hair growth and rest.
These factors can also cause hair thinning:
It could be inherited
Certain medications, including many antidepressants.
Hormone changes after childbirth or trauma such as surgeries (usually about 6 months after)
Scalp problems such as psoriasis or seborrheic dermatitis
Physical stress on hair roots, such as braiding hair or pulling it back in a pony tail
Certain medical conditions, such as thyroid problems
If your hair is thinning after clinical depression, ask your doctor if any of your medications could be causing it. Your doctor should give you a general checkup as well as examine your scalp for any conditions that need treatment. It is also important to take good care of your body. Exercise to lower your stress, eat a well-balanced diet, and get enough rest.
Mioxidil (Rogaine) helps some people. It's an over-the-counter medication that you apply to your scalp. But results are mixed. For men, oral finasteride (Propecia) can be helpful. The pharmaceutical community is working on more effective hair growth products as we speak.
There is no "magic bullet" to jump start hair growth. But taking good care of your body and keeping up a healthy and hopeful attitude can help.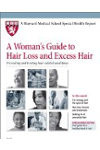 Continue Learning about Hair Loss
Hair loss is a problem for men and women alike. While the cause is often genetic, emotional or health problems can also cause hair loss, also called alopecia. If you have hair loss, talk to your doctor - as there are medications a...
nd surgical transplant treatments that can help.
More