Chemical processing, such as coloring, can harm your hair. Here's how to minimize the damage.
Semi-permanent color: All coloring processes reduce elasticity to some degree (less elasticity means more breakage). Semi-permanent color is less damaging than permanent color or lifting (colorists' fancy word for bleaching). Leave-in conditioners can help smooth the cuticle, which increases shine and helps your hair hold on to color for longer.
Permanent dye: Permanent dye deposits color into your hair shaft. The solution most likely contains hydrogen peroxide and ammonia to open up the cuticle and drive the color molecules into the hair. Unless a full bleaching process is required to change the hair color, permanent dyes are less damaging than lifting/bleaching. However, the cuticle (the outside layer of hair) still gets roughed up a bit. Leave-in conditioners can help smooth the cuticle, which increases shine and helps your hair hold on to color for longer.
Unless you have extreme color fade, it's not necessary to color your entire head every time. Just concentrate on the roots. If you repeatedly darken your entire head, your ends will get darker over time. If your hair looks brassy, counteract it with a cool-toned gloss (also known as toner), which will restore your color without depositing more pigment.
Highlights: Highlights lift, aka bleach, the hair—a process that requires hydrogen peroxide to strip the natural color. This increases porosity, leading to less shine and more breakage. With highlights, you're not lifting your entire head of hair, which does minimize the amount of potential damage, but it's important to treat your highlights with tender loving care to prevent as much breakage as possible. Get in the habit of using a protein-rich hair mask regularly. Adding protein back into the hair will help fill in the holes and decrease breakage.
Artificial coloring on your hair, whether you're bleaching it or coloring it, is the equivalent of artificial coloring in food - it may make it look as pretty as can be, but it's not always the healthiest thing you can do to your head. There is some suspicion that permanent black hair dye can cause leukemia and lymphomas and some chemicals that are no longer used caused bladder cancer. Because of extensive lobbying in the 1930s, hair-dye manufacturers only have to put warnings on the labels for skin and eye irritation. But in the late 1970s, the FDA proposed a warning linked to products that used two coal-tar ingredients - 4-methoxy-m-phenylenediamine (4MMPD) or its sulfate cousin (it never was implemented).
Temporary hair dyes are safer than permanent dyes, so the purple Mohawk you're considering probably poses little risk to your health - though it won't help you ace your next job interview, either. Bleaching, on the other hand, will really run up your hair bill as you try to salvage permanent damage.
Here's why: The pigment of your hair comes from the inner two layers. When you bleach your hair, you damage the shingles that create the covering of the hair shaft. The dye, which slips through the gaps in the outer layers, swells to give your hair a different color. But the prior or current damage the bleach caused allows the dye to slowly slip out of the hair, so we end up losing the full body of the hair faster than if we had just left it alone.
Now, in the olden days, hair dyes were toxic. Women who had their hair dyed monthly were twice more likely to get bladder cancer. Dyes have changed, but some still contain lead, known to cause neurologic damage. Others contain the skin-irritant coal-tar; if you get it in your eyes, you can lose your vision. Coal-tar hair dyes have also been linked to cancer in animals. The FDA has tried to put a ban on hair dyes that contain a coal-tar-like chemical called 4-MMPD, but manufacturers have fought this. Any dye that penetrates the skin is a cause for concern. It will take several more decades to know if hair dyes currently in use have subtle side effects.
I'll quote Billy Joel when it comes to bleaching, dying, and adding hot-pink highlights: "I like you just the way you are." Still, I also know that changing hair color can be an appearance advantage if it makes you feel better and healthier.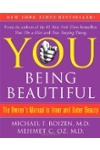 Continue Learning about Hair Coloring