A safe way to color your hair is to find a salon with experienced stylists who are familiar with your hair type and condition. If you're coloring your hair at home, be sure to test the product on a small patch of skin so you know if you will have any allergic reactions to the chemicals used in the dye. To do a patch test, place a small amount of the dye on the inside of your elbow or behind your ear, and leave it there for two days. If you haven't had a reaction in two days, the dye should be safe to use on your head. Don't leave the product on for longer than the package directions indicate, and be sure to rinse your hair and scalp well when you're done.

If you have concerns or questions about the safety of hair coloring products, talk to your doctor or dermatologist about what products would be most effective for your skin and hair condition.
If you're going to dye your hair (even though I think you look just fine), going to a professional colorist can be the easiest (albeit priciest) solution, and can decrease your exposure to potential toxins from the hair-coloring chemicals. But if you want to do it at home, follow these safety steps:
Don't leave the dye on your head any longer than necessary. Rinse your scalp thoroughly with water after use.
Wear gloves when applying hair dye (nitrile gloves are the best when dealing with chemicals), and carefully follow the directions.
Never be a home chemist and mix different hair dye products - you never know what you may create. Your kids may only blow up the house with their chemistry-set experiments; you could ruin your hair and injure your scalp.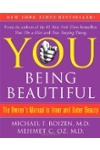 Continue Learning about Hair Coloring