Vaginal dilators are tapered devices used to slowly stretch the vaginal walls of the vagina so penetration is more comfortable. Dilator sets typically come in a wide variety of sizes so that a woman can start at a size that is most comfortable for her. Often, women experience pain during penetration during and after cancer treatment. A vaginal dilator can help a woman progress back to comfortable and satisfying vaginal penetration.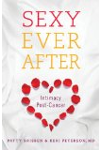 More About this Book
Sexy Ever After: Intimacy Post-Cancer
Recent studies show that 40-100 percent of men and women who have been treated for cancer have experienced some level of sexual dysfunction. Sexy Ever After: Intimacy Post-Cancer will help you...
Vaginal dilators consist of a set of plastic round-tipped cylinders that range in size from small (with a diameter of about 3/4 inch) to large (the diameter of a fully-erect penis). A woman starts by resting on her back and inserting the smallest dilator into her vagina, leaving it in place for a minute or so, removing it, and then reinserting it. Dilators should be well lubricated. Ideally, dilator exercises are done in a comfortable place with relaxing music for 5-10 minutes nightly. Over time, she repeats the exercises with successively larger dilators. Trained physical therapists can explain the technique, but a woman can do the treatment at home at her own pace. The process effectively enables women to stretch and relax their vaginal muscles.
Continue Learning about Gynecology