When symptoms flare up, affected joints can be very painful to move and to touch. Ice can be helpful in reducing swelling as well as a prescribed anti-inflammatory or over-the-counter ibuprofen. Symptoms usually begin to subside after 24 hours. Talk to your loved one's doctor to discuss the best treatment options for their condition.
Continue Learning about Gout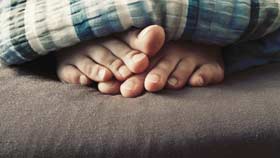 Gout is a form of inflammatory arthritis that causes very sharp pain in your big toe. Drugs can treat the pain of gout or prevent attacks altogether. Learn more from our experts about gout.