Ever feel the onset of nausea then take a few sips of ginger ale and, voila, feel better?

There's good reason. Ginger is a well-researched herbal remedy for stomach maladies.

But not only is the root herb -- a staple in Asian cooking -- a good method of easing nausea, several studies have shown it can be a cure for motion sickness. In a 1982 report, Lancet, the British medical journal, published an article showing ginger is a "very effective" treatment for motion sickness. Which is good news for those who love to eat Chinese food on ships.

Even if you don't like Asian food, but do like to travel the ocean, fear not. There are a number of studies which conclude that two or three ginger capsules, taken 30 minutes before boarding, then two to three capsules taken every hour or two, can keep motion sickness at bay.

There's another great use for ginger, according to Lancet. Ginger capsules, ginger tea or ginger ale can help alleviate morning sickness that comes with pregnancy. And some medical professionals are prescribing ginger treatments to those undergoing chemotherapy or after surgery.

Best of all, say researchers, the relief that ginger brings comes with nearly no side effects.
Ginger has been used for medicinal purposes in China for thousands of years and may act to improve asthma by stimulating mucus-producing vagus nerve reflexes. Ginger appears to have an antioxidant effect, as well as an anti-inflammatory effect, and stimulates the production of interferon which help fight serious vital infections.
Ginger, a natural anti-inflammatory, has been used for thousands of years by the Chinese to cure pain. Ginger helps relieve nausea, arthritis, headaches, menstrual cramps and muscle soreness. During colder days, ginger can help spice up your circulation, too! A perfect complement to vegetables, marinades and sweets, ginger is also delicious in tea. To make fresh ginger tea, you can cut up the root, boil it for 10 minutes, then strain the water and sip as tea. In a pinch, you can use ginger tea bags, available in health food stores.

You can also reap relief from pain by applying a ginger compress to the affected area. Grate the root; wrap the ginger in cheesecloth; place it in hot water for 30 seconds; let it cool and place on the affected area for 20 minutes.
Historically, ginger has a long tradition of being very effective in alleviating symptoms of gastrointestinal distress. In herbal medicine, ginger is regarded as an excellent carminative, a substance that promotes the elimination of intestinal gas, and intestinal spasmolytic, a substance that relaxes and soothes the intestinal tract. These properties can be attributed to its volatile component. Modern scientific research has revealed that ginger possesses numerous therapeutic properties, including carminative and intestinal spasmolytic effects, antioxidant effects, an ability to inhibit the formation of inflammatory compounds, and direct anti-inflammatory effects. A combination of ginger, cardamom, cinnamon, and coriander is carminative and stimulating to the digestion.
An indication of ginger's action in eliminating gastrointestinal distress is offered by recent clinical studies with ginger in preventing the symptoms of motion sickness, especially seasickness.
Gingerroot appears to be equally effective for automobile, airplane, train, or boat trips. It reduces all symptoms associated with motion sickness, including dizziness, nausea, vomiting, and cold sweating.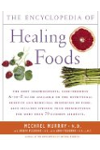 More About this Book
Encyclopedia of Healing Foods
From the bestselling authors of The Encyclopedia of Natural Medicine, the most comprehensive and practical guide available to the nutritional benefits and medicinal properties of virtually everything...
Ginger is ideal for treating stress in that it helps reduce cortisol levels, helps to calm the central nervous system, and aids in digestion. Watch acupuncturist and herbalist Mary Sabo explain these benefits, and how to make a soothing ginger tea.
Continue Learning about Ginger