A mutation can either be inherited from a parent or may arise in an affected person for the first time -- this is called a spontaneous or new mutation. However, the spontaneous mutation typically occurs at such an early stage of development that it is present in all the cells, including sperm and egg cells. This means that the mutation can then be passed to future generations. If the mutation occurs later in development it may not be present in all the cells -- this is called mosaicism. The risks to future generations are less clear in these situations.
Continue Learning about Genetic Disorders and Birth Defects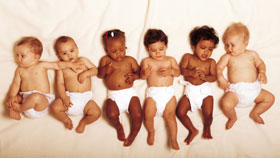 Genes contain DNA, the code that directs the development of cells. A mutation in a gene or a cluster of genes can cause a genetic condition or birth defect. Learn more from our experts about genetic disorders and birth defects.