A chromosome is a structure composed of deoxyribonucleic acid (DNA) contained within a cell's nucleus (center) where genetic information is stored. Human have 23 pairs of chromosomes: the first 22 sets are called autosomes and then there are two sex chromosomes. Chromosomes carry the genes and function in the transmission of hereditary information.
Chromosomes are the structures in our cells that contain our genetic information. Humans have two sets of 23 chromosomes, for a total of 46. Chromosomes 1-22 are called autosomes and are numbered 1-22. The last pair of chromosomes is the "sex chromosomes." There are two types of sex chromosomes: X and Y. Females have two X chromosomes and males have one X and one Y. Nearly all our cells contain the full complement of 46 chromosomes. However, egg and sperm cells each only contain one set of chromosomes (23) so that when they meet at fertilization the resulting embryo will have a total of 46 chromosomes.
Chromosomes are organized structures of proteins and the molecule DNA (deoxyribonucleic acid). Each chromosome contains a single continuous piece of DNA that looks like a twisted ladder. It is also known as the double helix. The DNA molecule is made up of four smaller molecules known as bases (A, T, C, and G). Each rung of the DNA ladder consists of two bases. The DNA molecule follows certain rules. A always pairs up with T, and C always pairs up with G. The sides of the ladder consist of a string of sugar and phosphate molecules, to which the rungs containing the bases attach. Each sugar-phosphate-base combination is called a nucleotide. In every one of your one hundred trillion cells, the sequence of these four letters or bases is nearly identical.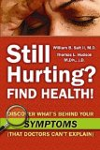 Continue Learning about Genetic Disorders and Birth Defects