Treatment of cystic fibrosis in children is much like treatment for adults with the condition, but possibly with additional concerns regarding poor growth and development due to malnutrition. If a child with cystic fibrosis is having difficulty gaining weight, or is found to have vitamin deficiencies, this can be treated with nutritional support.
There are a number of different treatments for cystic fibrosis (CF). One of the most important is airway clearance. A physiotherapist will show children exercises to help clear the mucus from their lungs. It has to be done every day, and may take up a lot of time, but it can really help. A special oscillation vest can also help get the mucus out.
Bronchodilators are used to relax the airways, making the tubes wider so it's easier to breathe. A mucolytic medicine makes the mucus more watery so it's easier to cough up.
Antibiotics help fight infections. They can be taken as tablets, syrups or inhalers. Some people with CF need a lot of intravenous (IV) antibiotics, and may have a special port inserted into their veins so they have fewer injections.
Because the body produces more sticky mucus all the time, it's important for people with CF to do the treatments every day to keep healthy. People with CF also need vaccines, like the flu shot, which help protect them against some infections. CF makes the body work extra hard, which means people need extra energy from food. Some people with CF need to take replacement enzymes. If people have CF-related diabetes, they may need to take insulin injections.
Treatment for cystic fibrosis (CF) focuses on clearing the lungs of mucus via antibiotics for infections, inhalers to clear airways, and ibuprofen to slow lung deterioration. You can help your child maintain lung function and avoid complications from mucus buildup and blockage by performing an airway clearance technique. Doing daily postural drainage and chest percussion is an effective technique. This is a form of physical therapy that uses body positioning along with percussion, vibration, deep breathing, and coughing to help children with CF breathe with less difficulty and stay healthy.
For digestive difficulties resulting from CF, pancreatic enzyme replacement might also be recommended. In the most extreme cases, a lung transplant may be the only option. Without proper management, a child with CF will suffer from chronic respiratory, digestive infections, and early mortality.
From Good Kids, Bad Habits: The RealAge Guide to Raising Healthy Children by Jennifer Trachtenberg.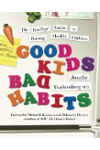 Continue Learning about Genetic Disorders and Birth Defects