While you can't control which genes you pass on to your child, you do have some influence over which genes are expressed, affecting what features are seen in your baby (his phenotype). In fact, how what you eat, breathe, and even feel can affect the long-term health of your child.

Stressors in the mother's environment cause a change in the gene expression patterns of the fetus. That means the chemicals your baby is exposed to in utero, via the foods you eat and the cigarettes you don't inhale, serve as biological light switches in your baby's development. On, off, on, off—you decide how your child's genes are expressed, even as early as conception.

You don't have total control. We still don't know how you can change your baby's eye color, or when his hair falls out. But we do know how to influence some really important factors like your child's weight or intelligence. So there's an important reason why we're able to turn certain genes on and off. Our bodies have to adapt to a changing environment (that's how a species survives, after all). But our ability to adapt would be much too slow if we had to wait generations for our genes to change through random mutation (the classical theory of evolution).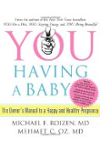 Continue Learning about Genetic Disorders and Birth Defects