Mitochondrial disease takes many different forms. It can look like any number of better-known diseases: autism, Parkinson's disease, Alzheimer's disease, Lou Gehrig's disease, muscular dystrophy and chronic fatigue syndrome. Power plants provide energy to a large community with each part of the community requiring varying degrees of power; in the same way, mitochondria provide energy to various organs of the body. So, when there is a malfunction, a black out looks like Leigh's Disease -- severe and fatal -- while a brown out might be severe, but not lethal.
Continue Learning about Genetic Disorders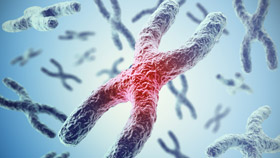 Genetic disorders are caused by inherited genetic traits or as a result of chromosomal abnormalities. Mutations can be random or caused by an environmental exposure. Screening for genetic disorders can occur before conception (tes...
ting parents for certain markers) and at birth.
More