Clinical genetic testing can confirm the presence of a mutation in the neurofibromatosis type 1 (NF1) gene. Prenatal testing for an NF1 mutation is also possible using amniocentesis or chorionic villus-sampling procedures. Genetic testing for a neurofibromatosis type 2 (NF2) mutation is sometimes available but is accurate only in about 65 percent of the individuals tested. Prenatal or genetic testing for schwannomotosis currently does not exist.
This answer is based on source information from the National Institute of Neurological Disorders and Stroke.
Continue Learning about Genetic Disorders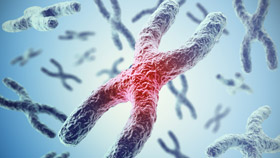 Genetic disorders are caused by inherited genetic traits or as a result of chromosomal abnormalities. Mutations can be random or caused by an environmental exposure. Screening for genetic disorders can occur before conception (tes...
ting parents for certain markers) and at birth.
More