The brain controls our entire body via the many neurons throughout our body. The stomach is related to the brain because throughout our gastrointestinal tract there are neurons from the brain that initiate digestion. The stomach being a part of the gastrointestinal tract (mouth to anus) is unique in that there is the enteric nervous system which is a specialized nervous system that specifically controls digestion and the movement of food through our bodies.
Your gut is synced up with your brain. Just think about how a bout of intense fear or panic can liquefy your innards -- or, more commonly, when a cramp or brief wave of nausea alerts you to a nagging anxiety your mind had been working so hard to suppress. There's a good reason your gut and your brain communicate so seamlessly: every class of neurochemical produced in the first brain is also produced in the second.

Stress hormones present another kind of chemical that acts as the primary go-between for these two brains. When the brain detects any kind of threat -- whether an impending layoff or a dustup with your spouse -- it shoots stress hormones to your gut. Sensory nerves there respond by adjusting acid secretion and shutting down both appetite and digestion -- a throwback to more dangerous times in our past, when we needed to summon all our resources to stand and fight, or flee. The result may be a nagging stomachache or a full-blown bout of gastrointestinal (GI) distress.

Suffice it to say our guts are very complex systems, which play into so much about us and our capacity to feel energetic.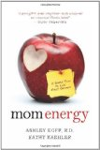 More About this Book
Mom Energy: A Simple Plan to Live Fully Charged
       From celebrated dietitian Ashley Koff and fitness trainer to the stars Kathy Kaehler comes Mom Energy, an exciting new way for moms to tap into their own natural and renewable sources of...
Continue Learning about Functions of the Brain