Conveniently located on the outside of our body, the skin serves many vital functions that are essential for life. It creates a barrier protecting our internal organs from the ravages of the outside world. It protects us against infection and even has its own special network of circulating protective cells called Langerhans cells, which offer a very important first line of defense. The skin is also the major organ that helps maintain and regulate body temperature and water balance. Constant adjustments are made in the skin and through the skin that remove certain toxins that our body has created.

On a deeper level, the skin has touch receptors that help us sense pain and thus avoid damage from burns or excessive force or other harmful elements. Those same touch receptors in the skin allow us to experience maximal pleasure and express love.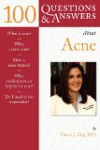 More About this Book
100 Questions & Answers About Acne
100 Questions and Answers About Acne provides you with all the information you need to manage your complexion problems. Written by Dr. Doris J. Day, a world-class expert in the field, this clearly...
Skin is the ultimate multitasker, by design. Its major function? Playing gatekeeper to the outside world, shutting out invading viruses, bacteria, and toxins. But it also keeps tabs on the scene inside your body, fighting off infections, warming you up, cooling you down, and keeping you moist(90 percent of you and 70 percent of skin is water). Skin also sometimes acts like a sponge, absorbing the sun's UVB rays, which help the body manufacture vitamin D for jobs like bone building and maintaining the nervous system. Your skin is also:
a communications specialist, silently telegraphing health or illness,pleasure or pain, embarrassment or enthusiasm
a total-body outfit . . . the means by which you touch and feel everything (and are touched, as in, mmm, massage)
a shock absorber, insulator, and wound healer
one of the few organs that regenerates itself; skin sheds dead cells and grows new ones continually, totally renewing itself every four to five weeks.
From The Mind-Beauty Connection: 9 Days to Less Stress, Gorgeous Skin, and a Whole New You by Amy Wechsler.
Continue Learning about Functions of Skin