In people who are prone to acne, starting when they are approximately 7 to 8 years old, the overall size of the sebaceous gland increases and becomes lumpier in response to increased production of hormones called androgens. This process is accompanied by increased secretion of sebaceous oils, called sebum. The hormonal changes at puberty that follow lead to changes in both the sebaceous glands and the skin cells lining the hair follicle opening (pore). Also, there are factors that control how the sebaceous gland handles the hormone, which is why some people are more affected by hormones than others. This is where heredity plays a role. In acne, excess sebum production is mainly due to differences in the response of the pilosebaceous unit to the local environment, increased circulating androgens, or both.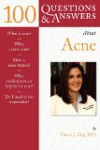 More About this Book
100 Questions & Answers About Acne
100 Questions and Answers About Acne provides you with all the information you need to manage your complexion problems. Written by Dr. Doris J. Day, a world-class expert in the field, this clearly...
Continue Learning about Functions of Skin