Here's a word game you may not have played before -- Sentence Scramble. It's a quick, fun word game that keeps you intellectually engaged and gives your creativity a boost as well. How do you play Sentence Scramble? First, take a newspaper, magazine, or book and turn to a random page. Next, select a paragraph (any one will do) and go through it. Take every fifth word from that paragraph and write it down, until you have a list of eight to 10 words. Now you are ready to play! Take that list of word and make up a sentence, using only those words -- the quirkier and sillier your sentence, the better.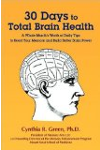 More About this Book
30 Days to Total Brain Health®
Get ready to make the move to better brain health! In this remarkably effective, scientifically-grounded plan, Dr. Cynthia Green, a clinical psychologist and one of the country's most notable experts...
Continue Learning about Memory