You've heard it before -- drink water. A lack of water leads to dehydration, which can leave you feeling tired and unable to concentrate. To make sure you get enough water, fill four 16-ounce bottles in the morning and sip on them throughout the day. Keep a bottle in strategic places -- on your desk, by the bed or where you watch TV -- and carry one with you.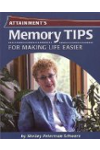 More About this Book
Memory Tips Making Life Easier
Written by memory and aging expert Shelley Peterman Schwarz, Memory Tips for Making Life Easier delivers just what its title promises. Written for health care professionals, family caregivers, and...
Continue Learning about Memory