Word games benefit the brain because they activate parts of the brain that deal with language and word finding, which forces the brain to exercise, work and be active. Watch neurologist Gayatri Devi, MD, explain why brain games are so beneficial.
Word games can be addictive. Many of us love these puzzles, and they are without doubt the most popular kind of game among my clients. How are word games good for our brains? Such activities keep us intellectually engaged by getting us to "stretch" our thinking. Unlike timed activities, which offer us a different kind of challenge, word games (and puzzles, board games, and the like) grab our attention, get us to make new connections, and give us the chance to think outside of our mind's box.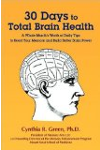 More About this Book
30 Days to Total Brain Health®
Get ready to make the move to better brain health! In this remarkably effective, scientifically-grounded plan, Dr. Cynthia Green, a clinical psychologist and one of the country's most notable experts...
Continue Learning about Memory