Using gadgets to help remember things is a good strategy; outsourcing our memory to a smart phone or computer helps us successfully remember all that we are tasked with. In this video, neurologist Gayatri Devi, MD, explains why gadgets are helpful.
Here are some tips on how to use gadgets to help you remember things:
Set an alarm to remind you to do tasks. To keep track of tasks you need to do during the day set an alarm clock and carry it around with you. To help you remember what the alarm is reminding you to do, write the list of tasks and times on a white board (write on/wipe off) and post in a prominent and convenient place, such as the kitchen. As a double check to make sure you haven't forgotten anything, mark off each task as you do it.
Program your pager with reminders such as when to take your medications, move the sprinkler in the yard or perform other household tasks.
Program numbers into your cell phone if you have trouble remembering. The new models will store up to 100 phone numbers. Use speed-dial for important family numbers, so you can dial a number automatically by holding down only a single button.
Personal data assistant. If you like gadgets, purchase an electronic pocket organizer or personal data assistant (PDA). Use it to keep your address book, appointment calendar, notes and to-do lists. Some PDAs have a built-in tape recorder.
Tape record reminders on audiocassette and microcassette recorders and cell phones. Daily tasks, comforting messages and recipes can be put on the tapes. Pictures on the plastic cassette case and a magnifying glass could also be helpful.
Record step-by-step instructions on a StepPAD. "Play" repeats the cue as often as needed; "Forward" moves to the next step; "Rewind" goes back to the previous one. You can reprogram the StepPad easily, changing one step without affecting others in the sequence.
Use an answering machine to remember. When you are out and about and it isn't possible to write yourself a reminder note, use your cell phone to leave a message on your home answering machine.
Take digital pictures of class or meeting notes. If you have difficulty taking notes or remembering points at meetings or in class, take a digital picture of the noteboard or charts and import it into your computer to review later.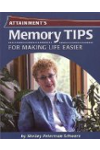 More About this Book
Memory Tips Making Life Easier
Written by memory and aging expert Shelley Peterman Schwarz, Memory Tips for Making Life Easier delivers just what its title promises. Written for health care professionals, family caregivers, and...
Continue Learning about Memory