It is recommended that you buy organic, unsulfured blackstrap molasses and store it in an airtight container, either in a cool area or in the refrigerator. An opened container has a six-month shelf life, while unopened jars can last up to one year. Heating blackstrap molasses by placing the container in hot (not boiling) water can help reduce its viscosity, allowing it to be poured or scooped out more effectively.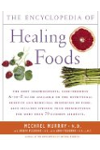 More About this Book
Encyclopedia of Healing Foods
From the bestselling authors of The Encyclopedia of Natural Medicine, the most comprehensive and practical guide available to the nutritional benefits and medicinal properties of virtually everything...
Continue Learning about Food Storage & Health
Prompt refrigeration of perishables is very important, but so is proper handling of food prior to storage. Foods should be separated to avoid cross-contamination. They should be clean, and they should have been cooked properly. Ev...
en after doing the above, there are important things you should remember. Outside temperature is important, leaving food in the car on a hot day can give spoilage and bacteria a head start. Leftovers should be cleared and stored promptly. Get a thermometer that can check your freezer and fridge for correct temperatures.
More