Fresh leeks should be stored unwashed and untrimmed in the refrigerator, where they will keep fresh for 1 to 2 weeks. Keeping them in perforated or loosely wrapped plastic will help them to retain moisture. Cooked leeks are highly perishable and, even when kept in the refrigerator, will stay fresh for only up to two days. Leeks may be frozen after being blanched for 2 to 3 minutes, although they will lose some of their desirable taste and texture. Leeks will keep in the freezer for about three months.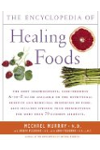 More About this Book
Encyclopedia of Healing Foods
From the bestselling authors of The Encyclopedia of Natural Medicine, the most comprehensive and practical guide available to the nutritional benefits and medicinal properties of virtually everything...
Continue Learning about Food Storage & Health