Fresh peas should be refrigerated, since heat hastens the conversion of their sugar content into starch. For fresh garden peas, look for those whose pods are firm, velvety, and smooth and have a medium green, alive look. Reject peas whose green color is especially light or dark or those that are yellow, whitish, or mottled with gray. Also, avoid pods that are puffy, water soaked, or have mildew residue. Pods should contain peas of sufficient number and size so that there is not much empty room in the pod. Avoid pods that rattle when shaken as they may be nearly empty. Although garden peas are typically round, the pods of snow peas should look flat. Look for the shape of the peas through the translucent shiny pea pod. Generally, the smaller pods are younger and tend to be sweetener. To find quality, fresh snap peas, snap one open and see whether it is crisp. These should be bright green in color, firm, and plump.

It is best to eat and enjoy fresh peas on the day you buy them. If this is not possible, it is best to refrigerate them as quickly as possible. Otherwise, the sweet sugar will turn to starch rather quickly. Store peas unwashed, unshelled in the refrigerator in a perforated bag or unsealed container that will allow some air to circulate around them. They will keep for several days. Fresh peas can be blanched in boiling water for one to two minutes and subsequently frozen for up to six months.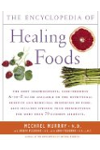 More About this Book
Encyclopedia of Healing Foods
From the bestselling authors of The Encyclopedia of Natural Medicine, the most comprehensive and practical guide available to the nutritional benefits and medicinal properties of virtually everything...
Continue Learning about Food Storage & Health