Green, rock-hard mangoes were likely picked too soon and will probably never ripen, but slightly under ripe mangoes can be placed in a paper bag that has been pierced with a few holes along with an apple, where they will ripen if left at room temperature for one to three days. Adding an apple creates more natural ethylene gas and decreases ripening time. Since this speeds up the ripening process, be sure to check daily for ripeness. If, however, you've purchased unripe mangoes and don't plan to use them immediately, you can store them for one to two weeks at 55 degrees F. before setting them out at room temperature or placing them in a paper bag to ripen. Once ripe, mangoes should be put in a plastic bag and stored in the refrigerator, where they will keep for one to three days.

If fresh mangoes are unavailable, frozen mangoes can be purchased cubed and bagged in clear plastic in the freezer section of your supermarket or health food store. Dried mango slices are also available in most supermarkets as well as health food markets. When purchasing dried mango, look for organic, unsweetened, sulfite free fruit.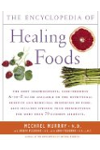 More About this Book
Encyclopedia of Healing Foods
From the bestselling authors of The Encyclopedia of Natural Medicine, the most comprehensive and practical guide available to the nutritional benefits and medicinal properties of virtually everything...
Ripe mangos can be stored in a plastic bag in the refrigerator for several days. If the mango is hard and green, place it in a brown paper bag on your counter for a few days in room temperature to ripen. Mangos that are picked too soon will not ripen properly, even if left patiently to ripen in a bag, and will have a tangy flavor.
Continue Learning about Food Storage & Health