Kiwifruit can be left to ripen for a few days to a week at room temperature, away from exposure to sunlight and heat. Placing the fruit in a paper bag with an apple, banana, or pear will help to speed its ripening process. Ripe kiwifruit can be stored either at room temperature or in the refrigerator. Store it away from other fruits and vegetables that emit ethylene gas, which causes kiwifruit to become overripe quickly.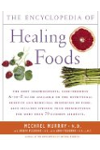 More About this Book
Encyclopedia of Healing Foods
From the bestselling authors of The Encyclopedia of Natural Medicine, the most comprehensive and practical guide available to the nutritional benefits and medicinal properties of virtually everything...
Continue Learning about Food Storage & Health