Store shelled hazelnuts in an airtight bag or container in the freezer, where they will stay fresh and flavorful for one year or more. Hazelnuts placed in an airtight container may also be stored in a refrigerator kept between 32 and 35 degrees F, where they will remain fresh for six to eight months.

Although hazelnuts will stay fresh much longer if stored in the freezer or refrigerator, they are quite resistant to spoilage. Raw hazelnuts contain 4 to 6 percent moisture, while roasted or baked hazelnuts contain only 2 to 3 percent moisture. Hazelnuts' low moisture content, combined with their high vitamin E level, provides resistance against oxidation and bacteria. If stored in the refrigerator or a cool, dark, dry place in an airtight container, they will keep for up to six months.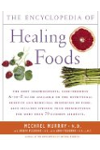 More About this Book
Encyclopedia of Healing Foods
From the bestselling authors of The Encyclopedia of Natural Medicine, the most comprehensive and practical guide available to the nutritional benefits and medicinal properties of virtually everything...
Continue Learning about Food Storage & Health