Flaxseeds can be purchased either whole or already ground. The two different forms offer distinct benefits. Although ground flaxseeds may be more convenient, whole flaxseeds have a longer shelf life.

Whole flaxseeds are generally available prepackaged, as well as in bulk. We recommend purchasing them in packaged form, preferably refrigerated. Just as with any other food that you may purchase in the bulk section, make sure that the bins are covered and that the store has good product turnover so as to ensure maximum freshness.

Whether purchasing flaxseeds in bulk or prepackaged, make sure that there is no evidence of moisture. If you purchase whole flaxseeds, store them in an airtight container in a dark, dry, and cool place, where they will keep fresh for several months.

Ground flaxseeds are usually available both refrigerated and non-refrigerated. It is highly recommended to purchase ground flaxseeds that are in a vacuum-sealed package or have been refrigerated since once flaxseeds are ground, they are much more prone to oxidation and spoilage. Whether you purchase ground flaxseeds or grind them at home, it is important to keep them in a tightly sealed container in the refrigerator or freezer to prevent them from becoming rancid. Ground flaxseeds stored in the refrigerator in this manner will keep fresh for six months; and in the freezer, for one year. Flaxseed oil should definitely be cold pressed and purchased in opaque bottles that have been refrigerated. Flaxseed oil should have a sweet, nutty flavor. You should never use flaxseed oil in cooking, but you can add it to foods after they have been cooked.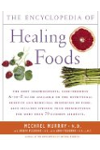 More About this Book
Encyclopedia of Healing Foods
From the bestselling authors of The Encyclopedia of Natural Medicine, the most comprehensive and practical guide available to the nutritional benefits and medicinal properties of virtually everything...
Continue Learning about Food Storage & Health