Unwashed, fresh cranberries can be stored in the refrigerator for several months. Cranberries may show moisture after removal from the refrigerator, but such dampness does not indicate a lessening in quality, unless the berries are sticky, leathery, or tough or their flesh is discolored.

If frozen, cranberries will keep for several years. To freeze fresh cranberries, spread them out on a cookie sheet and place in the freezer. After a couple of hours, transfer the fully frozen berries to a freezer bag, seal, and date. When you are ready to use frozen cranberries, be aware that the berries become quite soft after thawing and should be used immediately to prevent spoilage.

Dried cranberries are available with other dried fruits in many groceries.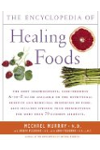 More About this Book
Encyclopedia of Healing Foods
From the bestselling authors of The Encyclopedia of Natural Medicine, the most comprehensive and practical guide available to the nutritional benefits and medicinal properties of virtually everything...
Continue Learning about Food Storage & Health