White bread is typically made with bleached white flour. And with that, the foundation of your bread is likely void of any real nutrition (and exposed to bleaching agents). Also, white bread can be converted to sugar in the bloodstream very quickly. Ideally you want your food to be slowly absorbed so your blood sugar levels remains stable. If you love white bread, opt into a brand that is made with UNbleached white flour. Or try a bread with 100% whole grain unbleached wheat flour--the best alternative for the more mainstream palate.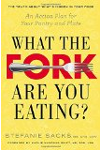 More About this Book
What the Fork Are You Eating?: An Action Plan for Your Pantry and Plate
It's labeled "natural," "grass-fed," or "free-roaming;" yet it might be anything but. It's time to find out what you're actually eating... When your groceries are labeled "low-fat," "sugar-free," and even "natural" and "antibiotic-free," it's easy to assume that you're making healthy choices. Yet even some of those seemingly wholesome offerings contain chemical preservatives, pesticides, and artificial flavors and coloring that negatively affect your health. In What the Fork Are You Eating?, a practical guide written by certified chef and nutritionist Stefanie Sacks, MS, CNS, CDN, we learn exactly what the most offensive ingredients in our food are and how we can remove (or at least minimize) them in our diets. Sacks gives us an aisle-by-aisle rundown of how to shop for healthier items and create simple, nutritious, and delicious meals, including fifty original recipes.  
From the bagel you had for breakfast to the croissant in the sandwich you had at lunch to the roll you included with dinner, most of the starches you've been scarfing down are probably made from refined, not whole, grains. That means they've been stripped of the bran and germ, which contain most of the important nutrients (fiber, lignans, antioxidants, selenium, iron, zinc), which provide protection against illness. You've been eating (gasp!) white bread, or its equivalent, and a whole lot of it.

What's the problem, you ask, with white bread? Besides the fact that it is lacking in so many important nutrients, a diet high in refined carbohydrates -- such as bagels, croissants, and almost all dinner rolls, not to mention biscuits, white rice, most muffins, and that pretzel you ate for your afternoon snack -- is quick to raise blood sugar in your body, and that is something African Americans need to be particularly careful about because of our tendency toward insulin resistance, syndrome X, and type 2 diabetes.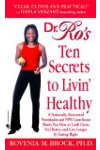 More About this Book
Dr. Ro's Ten Secrets to Livin' Healthy
In this one-of-a-kind book, Dr. Rovenia M. Brock—known as Dr. Ro™ to fans of Black Entertainment Television's Heart & Soul—reveals practical, satisfying ways for African American women to eat...
Continue Learning about Food Production & Health