Foodborne illness is transmitted to people by food or water. It is also a disease that can be prevented by washing hands frequently, cooking and storing food to adequate temperature levels, and following personal hygiene. Foods that are easily contaminated and can cause foodborne illness are milk and dairy products, eggs, shellfish, fish, baked potatoes and protein foods.
Food borne illness is commonly known as food poisoning. Every year in the United States, food borne illness sickens roughly 48 million people and is responsible for 128,000 hospitalizations and 3,000 deaths. It should not be taken lightly.

Certain groups of people are more susceptible to food borne illness including children, pregnant women, the elderly and anyone who has a suppressed immune system. However, anyone can encounter food borne illness. Fortunately, there are many things you can do to minimize your risk and keep your family's food safe.

The most common cause of food borne illness is when you come in contact with harmful bacteria carried in food. Common bacteria responsible for this include E.coli, Salmonella, Listeria and Shigella. It may be present in raw seafood, meat or poultry (and some produce and packaged foods) when you buy them or foods may become contaminated during preparation at home or in a restaurant. Additionally, if cooked food is not handled properly, stored, chilled or re-heated properly bacteria can grow and cause forborne illness.

For tips and more information on keeping your food safe, visit www.homefoodsafety.org.
Food borne illness is a disease caused by consuming contaminated foods or beverages. Many people do not think about food safety until a food-related illness affects them or a family member. While the food supply in the U.S. is one of the safest in the world, the Centers for Disease Control and Prevention (CDC) estimate that 76 million people get sick, more than 300,000 are hospitalized, and 5,000 Americans die each year from food borne illnesses.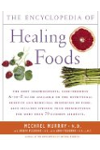 More About this Book
Encyclopedia of Healing Foods
From the bestselling authors of The Encyclopedia of Natural Medicine, the most comprehensive and practical guide available to the nutritional benefits and medicinal properties of virtually everything...
Continue Learning about Food Poisoning