Children's immune systems are not as developed or as robust as adults' immune systems. When a child's immune system is in flux, he is at increased risk of developing food allergies. This is why doctors recommended waiting to introduce solids until 6 months and then introduce one new food a week.
The incidence of food allergy is much higher for children than for adults. The reason for the much higher rate among kids is partly the result of the fact that most people "outgrow" their food allergies, peanuts being the exception. Only 10 to 20 percent lose their peanut allergy as opposed to 90 percent for other foods. Milk allergy is often the result of an immature digestive system that can't handle the complex proteins at an early age, but that eventually does mature.
The fact that the numbers of food-allergic children are growing may well indicate that there are other things at work that are compromising the way their immune systems are developing. The first social change that may have given rise to allergy was the invention of the shoe, which kept parasites from entering children's feet. Then it was energy-efficient housing. Now it may well be that the almost universal use of antibiotics in young children has subverted the immune system from fighting germs to reacting to foods and other allergens in an allergic fashion. T-helper lymphocyte cells are redirecting the B-lymphocyte cells that produce all the different kinds of antibodies from making the germ-fighting immunoglobulin G (IgG) to the allergic antibody immunoglobulin E (IgE). With fewer germs to fight, the T cells start pushing the B cells to make more IgE.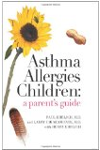 More About this Book
Asthma Allergies Children: A Parent's Guide
Asthma and allergies are at epidemic proportions. It doesn't have to be that way. Two experienced pediatric allergists tell everything a conscientious parent needs to know about these conditions,...
Many children outgrow their allergies before they reach adulthood, but there is an increase in the number of children developing food allergies. There are various theories about why, however, none of these are established. Some of the theories include:
Clean theory/hypothesis—children are growing up in an environment that is too clean.
One theory is that the Western diet has made people more susceptible to developing allergies and other illnesses.
The decrease in richness of gut bacteria in Westerners may have something to do with the rise in allergies in industrialized countries, said Dr. Paolo Lionetti of the department of pediatrics at Meyer Children Hospital at the University of Florence.
Another theory is that children need to get exposed to common allergens, such as nuts and shellfish, from a much earlier age, to avoid developing allergies. Some doctors have been recommending waiting until 2 or 3, but Ferdman at Children's Hospital Los Angeles is a proponent of giving kids nuts very early.
Continue Learning about Food Allergies & Food Intolerance