The following foods contain wheat:
Beverages and formula:
Postum
Beer, gin, and some whiskeys
Dairy products:
All dairy products thickened with wheat flour or wheat starch
Eggs, meat, fish, and poultry:
All breaded meats with wheat flour or wheat starches
All meats with wheat flour or wheat starch thickeners
Fruits:
All fruits, canned or frozen, with breading or thickened with wheat flour or wheat starch
Vegetables:
All vegetables canned or frozen, with breading or thickened with wheat flour or wheat starch
Breads, cereals, and pasta:
Commercial breads and rolls made with wheat flour
All hot wheat cereals
All cold cereals made from wheat grains
All wheat crackers
Teriyaki rice cakes
Flour tortillas
All wheat pasta and noodles
Soups:
Any soups with noodles or pasta and thickened with wheat flour or wheat starch
Fats:
Salad dressings thickened with wheat flour or starches
Packaged gravies, dips, and sauces with wheat thickeners
Desserts:
All candy or other desserts with wheat flours or wheat starches
Commercial cakes, cookies, donuts, pies and pie filling, or mixes with wheat flours
Custards and pudding with wheat flour or starch
Licorice (modified food starch [MFS])
Most packaged frostings (MFS)
Peanut M&Ms
Note: In the U.S. most modified food starch is made from corn; however, check with the manufacturer to verify it does not contain wheat.
Condiments:
Miscellaneous:
Monosodium glutamate (MSG)
Pure vanilla
Anyone following a wheat-free diet due to a wheat allergy must avoid:
Bread crumbs
Bran
Cereal
Couscous
Cracker meal
Enriched flour
Farina
Gluten
Graham flour
High-gluten flour
High-protein flour
Spelt
Vital gluten
Wheat bran
Wheat germ
Wheat gluten
Wheat malt
Wheat starch
Whole wheat flour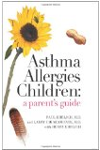 More About this Book
Asthma Allergies Children: A Parent's Guide
Asthma and allergies are at epidemic proportions. It doesn't have to be that way. Two experienced pediatric allergists tell everything a conscientious parent needs to know about these conditions,...
Continue Learning about Food Allergies & Food Intolerance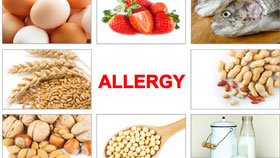 Food allergies occur when the body attacks a food it mistakes as harmful, causing symptoms such as nausea, stomach pain, diarrhea, shortness of breath or hives. With food intolerance, the digestive system alone rejects the food, f...
inding it difficult to digest properly. Foods such as peanuts, shellfish, eggs, soy or wheat are the most common type of food allergens.
More