People with soy allergies need to read labels and avoid anything containing soy listed on the label. Some people do not have a severe anaphylactic allergy and may be able to tolerate small amounts of soy.
The following are foods you can eat (no soy) if you have a soy allergy:
Drinks:
Carbonated drinks
Cocoa mixes (check label to see if soy free)
Coffee
Fruit juice and other fruit drinks
Gatorade
Tea
Milk and dairy:
Cheese
Whole, low-fat, and skim milk
Cottage cheese
Cream
Yogurt from dairy
Meats and other proteins:
All fresh meat, fish and poultry
Baby food meats or combination dinners without soy proteins
Cold cuts without soy
Eggs, plain
Kosher frankfurters
Prepared dinners without soy protein
Beans and lentils prepared without soy
Nut butters and peanut butter without soy
Fruits:
Fresh, frozen or canned fruits
Baby food fruits without soy
Vegetables:
Plain, fresh, frozen, cooked, or canned vegetables
Vegetable juices
Breads, cereals and pasta:
All-purpose flour and cake flour
Bread and rolls without soy flour
Cold or hot cereals without soy flour or protein
Crackers made without soy
Pasta, macaroni, noodles, and spaghetti without soy
Soups:
Soups without soy or soy products
Fats:
Avocados
Bacon
Butter or margarine with no added soy
Coconut (milk or shredded)
Gravy mixes if no added soy
Oils, non-soy
Olives
Peanut butter (natural)
Salad dressings without soy
Sour cream, cream cheese
Desserts and sweets:
Angel food cake
Cakes or cookies without soy flours
Candies without soy
Gelatin
Ice cream without soy
Puddings and pies without soy
Miscellaneous:
Artificial sweeteners
Ketchup
Honey
Jam and jellies
Mustard
Pickles
Popcorn without soy
Seasonings without soy
Spaghetti and other sauces without soy
Sugar
Continue Learning about Food Allergies & Food Intolerance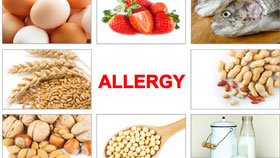 Food allergies occur when the body attacks a food it mistakes as harmful, causing symptoms such as nausea, stomach pain, diarrhea, shortness of breath or hives. With food intolerance, the digestive system alone rejects the food, f...
inding it difficult to digest properly. Foods such as peanuts, shellfish, eggs, soy or wheat are the most common type of food allergens.
More