The only way to prevent an allergic reaction to peanuts is to keep your child from eating or breathing in peanut protein. Read food labels carefully, and make sure your home doesn't have any products that contain peanuts. The Food and Drug Administration (FDA) requires food products to be clearly labeled if it contains ingredients that commonly cause allergic reactions. If you eat at a restaurant, ask questions about ingredients and inform employees of your child's allergy. Make sure that your child's teachers, babysitters, and other family members or caregivers are aware of the peanut allergy, and also ensure that your child understands his or her peanut allergy. In case of accidental exposure, make sure that everyone knows the symptoms of an allergic reaction and how to administer emergency medications.
Continue Learning about Food Allergies & Food Intolerance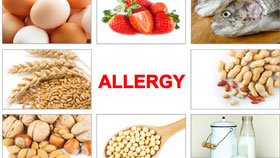 Food allergies occur when the body attacks a food it mistakes as harmful, causing symptoms such as nausea, stomach pain, diarrhea, shortness of breath or hives. With food intolerance, the digestive system alone rejects the food, f...
inding it difficult to digest properly. Foods such as peanuts, shellfish, eggs, soy or wheat are the most common type of food allergens.
More