Because food has such an influence on our digestion, it stands to reason that you can change the way you live and feel by figuring out which foods cause you trouble. Because there are so many foods to choose from, the best way to experiment is through the food-elimination test.

In this test, completely eliminate one group of foods for about three days in a row. During that time, you should take notes about how you feel with regard to energy levels, fatigue, and digestive regularity. Take notes when you go off foods and-just as importantly-how you feel when you re-introduce them into your diet. That way, you'll be in tune to those things that make you feel worse once you start eating them again.

Here's the order of groups of food I'd suggest you eliminate from your diet at different times, just for two or three days:

Wheat products
Dairy productsProtein
Carbohydrates
Fat
Sugar
Artificial colors

When you eliminate a group from your diet, you'll notice different things about the way you feel. For instance, you may have more energy when you eliminate the aging fats (saturated fat and trans fat) from your diet, and that'll help you stick to a diet low in saturated fat because you'll notice-and like-the changes.

It's all about awareness. Being in tune to which foods make you feel crummy and which make you want to sprint to the top of Mt. Kilimanjaro. This three-day elimination plan is especially a good test because you may be able to identify subtle food allergies through this method.

Although some food allergies may be as obvious as a botched hair transplant, others may not be so clear. Low-grade food allergies can make you feel as if you have a touch of the flu-with a runny nose and headache. Through this experiment, you can help make a diagnosis and avoid some of the foods that don't make you feel well.

Best of all, this experiment trains you to do something that's good not only for your digestive system but also for your overall health and youth. It teaches you to eat smaller meals by restricting some of the usual foods that you would toss in your mouth by habit. And that's good for everyone.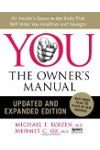 Continue Learning about Food Allergies & Food Intolerance